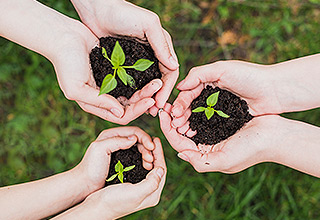 Create greenery by planting small plants at home and outside
We at GoGreenSurvey are considerate about nature. We care about the greenery. We did our bit by taking the first step by initiating GoGreen Surveys. But the question is - are you sensitive about our mother nature?

You would have noticed that all of us often complain about the different kinds of pollution and the bad quality of air. But have we ever pondered about the fact that many in fact most of our actions and activities impact the environment? We were supposed to use the resources for our survival but we have overexploited them. Our negligence and ignorance have brought about negative effects and have misbalanced the ecological system and disrupted the co-existence strategy of nature and living beings/humans.

Some of our routine activities harming and affecting the environment are-
Deforestation
Defecating in open spaces
Burning fossil fuels
Improper disposal of garbage especially in the water bodies
Preferring to travel by personal mode of transportation over carpooling
Increased use of electronic devices, refrigerators, ACs, etc.
And the list can go on and on! But the million-dollar question that needs to be addressed is that how often do we make efforts to plant trees and improve the ecological balance? The honest answer is that usually, we don't. There are just a handful of people in our peer group that make consistent efforts and bring about initiatives to plant trees. The worst part is that we don't chip in to help or support them.

What is often overlooked is that little drops of water fill the tiny ocean. Hence, a small effort from all of us can eventually help the masses and our future generation at a grand scale and in the long run. That one tree which you will plant today will reap various benefits as enclosed-

Increased oxygen levels
Attract wildlife
Lead to improved quality and quantity of air. Thereby providing natural conditioning
Helps prevent soil erosion and water pollution
But did you also know that-

An average-sized tree produces to provide considerable oxygen levels for a nuclear family of 4 for a year
If three plants are planted at an appropriate position, they can help reduce up to 50 percent of the air-conditioning costs
Going by a rough estimate, by seeding 20 million trees, approximately additional 260 million tons of oxygen will be produced and will help
reduce 10 millions of Carbon dioxide too
Trees can be therapeutic. An area with a beautiful view has healing effects
There are plants that provide oxygen 24/7? Yes, some special species of plants like Aloe Vera, Areca Palm, Snake Plant, Tulsi, and Spider
Plant release oxygen even at night which means 24 hours a day. Having such plants will provide multiple benefits to you-

Primarily being increased oxygen supply
Additionally, they will remove the toxins, thus providing you purified air
Ideal for indoor locations and will not only beautify your home aesthetics but will provide you with good quantity and quality oxygen.
Help and contribute in rejuvenation and maintenance of your overall health
Feels like a Pandora box of hidden benefits, doesn't it?

So, if you do share or wish to share the common vision with us, then join hands with us by participating in GoGreenSurvey.com. Let us bring about a change in our actions, a change in our daily decision-making process as it can bring about a major impact on the environment.

Some of our programs supporting the GoGreen initiatives of which you could be a part are-

Evolving ourselves to save the environment and imbibing the approach that every decision we take should be in favor of the environment
Create greenery by planting plants both inside the homes as well as outside
Use green products that are bio-degradable and environment friendly
Recycle goods so there is reduced wastage
We urge you to make small, concerted yet consistent efforts at an individual level by-

Making a small pledge of planting a tree annually. Doing so will lead to an increase in the number of plantations
By using the strength of word of mouth to spread awareness about the good deed of planting trees
By including it as a gifting option in our lifestyle for all sorts of occasions
By coming up with support groups and building communities with nature enthusiasts and environmentalists
Using the power of social media to share our experiences, knowledge, and awareness
By having plants indoors especially the indoor variety
The simple math says that if all of us plant a tree once a year, collectively the amount will be huge enough and such consistent efforts will definitely bear fruits in the long run.

Hence, now is the time to act, now is the time to do, and now is the time to plant that seed! As the saying goes, 'as you sow, so shall you reap'. Fortunately and ironically, what we sow, the fruits will be savored by the coming generations as well. However, if we don't, then, unfortunately, not only will we suffer in the present but the coming generations' future and even their survival will be under a huge threat.

The choice is pretty simple and clear- Trees today or threat tomorrow!

Click here if you choose the former and wish to Create greenery by planting small plants at home and outside.