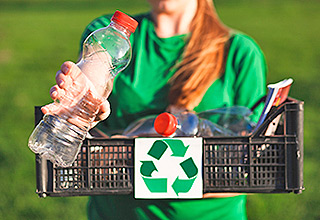 Protecting the environment and keeping it filled with resources by Recycling goods
Every decision we take has an impact on our environment. The products we use or discard can be harmful to our environment. Not only do we use the resources incessantly, but we also dispose them off without analyzing if they could be reused or recycled. Additionally, with the increasing population, the amount of waste generated has also increased. It has not only affected the hygiene of our surroundings and our living conditions but has also damaged our environment. There is no harmony amongst the various life forms and hence there is a threat to every living being's survival on this earth.

Recycling products is essential to prevent this condition. It is one of the easiest and simplest solutions to reduce the stress on the environment.

Benefits of recycling:

Recycling the goods that we use has various benefits. Some of the are-
Helps to conserve the natural resources
Helps protect the ecosystem and the ecological balance
Reduces the need for raw material procurement
Helps save finances, time, energy, and resources
Reduces climatic changes and carbon emissions
Reduces waste disposal and management
Did you know that some of the commonly available items that present around you can be recycled and reused? Here is a comprehensive list for your kind reference:
Paper especially books
Bottles and cans
Disposables
Cardboard
CFL bulbs and tube lights
Garbage waste
Glass
While disposing off your garbage, always take care that:
Segregate plastic from the other waste
By achieving a target to reducing the waste you dispose every day, you will find yourself recycling stuff to the maximum
Always take care to recycle clean bottles and products. Edible stuff should never be recycled
Never dispose or mix up packaged recyclables, plastic bags, wrap, films, cups with a wax coating, dirty diapers, mechanical or electrical waste with your recyclable waste
Some of the commonly available products which are recyclable materials are:
Plastic bottles and containers
Cans
Paper and cardboard
`However, the recycling hack isn't just applicable for materialistic resources but natural resources too. We can recycle water, air, etc. too. All we need is a little knowledge, awareness, and motivation to do so!

To protect the environment, we need to adopt the 3 R policy; which is Reduce, Reuse, and Recycle!

This implies that reducing the use of harmful products and also the disposed waste, reusing the ones which can be and recycling the ones that can't be reused.

Enlisted below are a few simple ways in which you can contribute to the recycling goods initiative.
Using water wisely while bathing, brushing, flushing, washing utensils, vehicles, watering plants, etc.
Curbing the use of plastic
Using LED bulbs and lights
Switching off electricity and power points when not in use
Walking if traveling nearby. Carpooling rather than raveling individually
Plant a tree at least annually
Dig a compost pit nearby you may be in the park wherein you can dump the kitchen waste
Use eco-friendly products
Know more about recycling procedures and practice, propagate and follow as much as possible
Choose green energy over conventional methods
Opt for recycled products or the ones manufactured with recyclable products
Plastic is one such product. Another example is recycled timber as it can be used to make paper or furniture
The tiny bits of soaps, liquid washer, instead of throwing away can be used for other cleaning purposes
We at GoGreenSurvey are empathetic and sympathetic with the situation. But we are also aware of and considerate about the environment. As a part of our GoGreen initiatives, we made our contribution to preserving the environment by channeling our efforts on propagating the use of green energy.
Evolving ourselves to save the environment and imbibing the approach that every decision we take should be in favor of the environment
Create greenery by planting plants both inside the homes as well as outside
Use green products that are bio-degradable and environment friendly
Recycle goods so there is reduced wastage
Being the most rational living organisms on the globe, it is our responsibility to take care of our mother nature. But it's quite ironic that we are the ones who overstretch and exploit the resources for our selfish motives.

However, we need to take immediate steps before it's too late. That day won't be far when there would be a gap in the demand and supply chain.

We need to think over every decision we make, every product we use and throw away as this will help us in taking a wise step. We will notice that we can bring about many minor changes in our lifestyle which won't affect our life but will definitely help save the environment. We will reduce the stress on our mother nature and we won't have to stretch it to leach it out for all the resources.

We also need to spread awareness about the same. As the saying goes, 'the more the merrier'; the more we can make people understand and join hands for this cause, the better.

It's up to us if we want us and our future generations to live or just barely survive with the lack of basic facilities!
Click here if you wish to join hands with us and Save the environment by adopting the practice of Recycling goods!